NAVIGATION
NEWS
CONTACT US
Add: SHANGHAI
Tel: 021-5106 1321
Fax: 021-5106 9123
Email: sales@gootran.com
Your position: Home > Products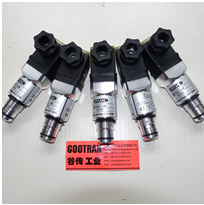 HYDAC sensor, pressure switch, pressure sensor, temperature transmitter, flow transmitter - copy
HYDAC sensor
pressure switch
flow transmitter
temperature transmitter
Product description: HYDAC sensor Is a detection device, can feel the information, and can feel the information, according to a certain law to transform into electrical signals or other forms of information output, in or
Product introduction
HYDAC sensor, pressure switch, pressure sensor, temperature transmitter, flow transmitter
HYDAC sensor
是一种检测装置,能感受到被测量的信息,并能将感受到的信息,按一定规律变换成为电信号或其他所需形式的信息输出,以满足信息的传输、处理、存储、显示、记录和控制等要求
Is a detection device, can feel the information, and can feel the information, according to a certain law to transform into electrical signals or other forms of information output, in order to meet the information transmission, processing, storage, display, record and control requirements
Germany Dirk HYDAC sensor features and the main types of HYDAC company with many years of manufacturing hydraulic, gas production experience in measuring technology, developed a series of pressure sensors, multi-function pressure switch, temperature sensor, temperature switches, flow sensors and other electronic products, in many domestic industries have a wide range of applications. Features are as follows: product quality: the use of electronic pressure switch, built-in DMS pressure sensor can be set by the key. High precision, long life, simple operation. Control accuracy: the detection accuracy of up to 0.5%, suitable for a variety of work areas. Product stability performance is good: in the design of a special compensation circuit, the deviation control in a very small range, so that the product in the normal use, to maintain a good stability. Easy to use: mechanical and electrical connection is simple, can be set by the button, the output signal can be directly input PLC control system. Long life: the use of electronic switches to achieve the non-contact control, and mechanical contact type switch, long life. Technology GmbH HYDAC professional production for fluid filtration technology, hydraulic control technology, electronic measuring technology components and devices, is the world's leading filter, accumulator, hydraulic valve, electronic products, pipe clamp, solenoid, hydraulic system assembly and other products manufacturers. Germany Dirk HYDAC products are widely used in the field, especially in the metallurgical industry, automotive industry, power equipment, chemical engineering, engineering machinery, paper industry, shipbuilding industry and machine tool manufacturing and other fields have been widely used. HYDAC HYDAC products mainly include the following aspects: energy storage technology: bladder type storage can heater, a piston type energy storage device, diaphragm type energy storage device, such as shock absorber. Fluid filtration technology: all kinds of hydraulic, lubricating oil filter, oil filter vehicle, vacuum dewatering cart, oil detector. Process technology: special medium filter, automatic back flushing filter. Electronic measurement technology: pressure, temperature, flow detection switch, sensor and monitor, fault diagnosis instrument, etc..
冷却技术:油/风冷却器、水冷却器,各类冷却装置,供油泵。 液压控制技术:液压方向、压力、流量控制阀、比例阀、球阀。 液压、润滑系统总成:各种用途的液压润滑动力站、控制阀块、液压执行器。 管道安装技术:球阀、管夹、法兰、管接头、胶管总成、快速接头。 其它:压力表、压力表开关、测压软管、测压接头、液位计、空滤器、钟型罩等。
Cooling: air cooler, oil / water cooler, cooling device, oil pump. Hydraulic control technology: hydraulic direction, pressure, flow control valve, proportional valve, ball valve. Hydraulic, lubrication system: all kinds of uses of the hydraulic power station, control valve block, hydraulic actuator. Pipe installation technology: ball valve, pipe clip, flange, pipe joint, hose assembly, quick joint. Other: pressure gauge, pressure gauge switch, pressure gauge, pressure gauge, level gauge, air filter, bell type cover, etc..